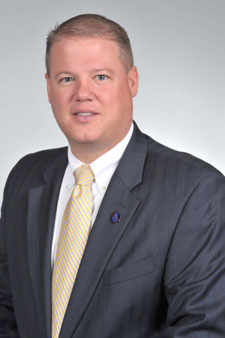 Deputy Chief Chris Dobbs
DEPUTY CHIEF
Support Services is a division of the Police Department made up of many specialized, yet smaller services, including Training and Crime Prevention, and serves as liaison to the Carrollton Municipal Court. Managed under the Support Services division are all the programs involving citizen participation. This includes Crime Stoppers, Volunteers In Policing, the Chaplaincy program, Neighborhood Watch, both the Citizens' and Youth Police Academies, and the Experience Works and Internship Programs.
The Support Services division manages the Court Clerks and other staff to provide operational support to the Municipal Court. All citations and some misdemeanor charges are prepared and presented before the Municipal Judge. It is the Court Clerks' job to ensure that this is done in a timely and fair manner. The Support Services Captain works closely with the Municipal Judge, as well as the Solicitor, to ensure that the rights and privileges of the citizens are balanced with the responsibility to adjudicate cases fairly.
Support Services is under the command of the Deputy Chief of Police Chris Dobbs. He began his law enforcement career with the Carrollton Police Department in September of 1992. In June of 1999, he was promoted to Corporal, and in March of 2001, he was promoted to Sergeant of the Traffic Division. His promotion to Captain came in April of 2004. Originally Captain Dobbs was promoted to Captain of Uniform Services; however, in September of 2004 he was transferred to Captain of Criminal Investigative Services. Captain Dobbs has attended the Carroll County Leadership Academy and the Georgia Law Enforcement Professional Management Program, and is a member of the Georgia Association of Chiefs of Police.
The following divisions are managed by the Deputy Chief of Police:
(please click a link to learn more)